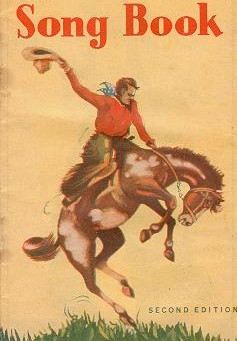 VOICES WEST: SEX IN THE WEST COWBOY-RELATED DOCUMENTS
Sex in the West Bibliography: Nardi - Rusho

[Homepage] [Introduction] [Cowboy Poetry] [Cowboy Songs] [Postcards]
---
<! TOP-OF PAGE LINKS --> [Sex in the West Introduction] [Contents] [Previous page] [Next page] Sex in the West Bibliography: Nardi - Rusho

* Indicates from the collection of Alan V. Miller

* Nardi, Peter M. "Friendship." p.356-358. In Gay histories and cultures: an encyclopedia. Edited by George E. Haggerty. New York; London: Garland, 2000. (The encyclopedia of lesbian and gay histories and cultures, vol. 2)
| | |
| --- | --- |
| | Cowboy series: "Broken in", 191- |
Nardi, Peter M. Gay men's friendships: invincible communities / Peter M. Nardi. Chicago, IL: University of Chicago Press, 1999. 253 p.
While the book flows from a recent survey of gay male friendships, Nardi refers little to feminist writings on friendships.
Nash, Roderick. The nervous generation: American thought, 1917-1930 / Roderick Nash. Chicago, IL: Rand McNally, 1970. 178 p.
"Indeed the impact of Sigmund Freud on American intellectual history of the 1920s might be compared to that of Darwin in the late nineteenth century." p.48.

"The new ideas, especially the Freudian concept of repression, made perfect ammunition for the intellectuals in the twenties in their attacks on both puritanism and gentility." p.55.
| | |
| --- | --- |
| | Cowboy series: "Roped", 191- |
Neihardt, John G. (1881-1973) Lyric and dramatic poems / John G. Neihardt. Lincoln, NB: University of Nebraska Press, 1965.
Neihardt, John G. "Poor Walt." Saint Louis dispatch. Apr. 11, 1927, p.23.
Neihardt negatively reviews a biography of Walt Whitman, which dwells upon the poet's "sexual preference."
* Neihardt, John G. The song of Hugh Glass / John G. Neihardt. New York: Macmillan, 1915.
About the legendary episode of 1823, when a frontier trapper was injured, and abandoned at the approach of hostile Indians by his youthful companion, Jim Bridger. (Reprinted in A cycle of the West, Lincoln: University of Nebraska Press, 1971, c1949.)

In The collected poems of John G. Neihardt, vol.2, 1926, p.374:
"The boyish laugh, the merry eyes of blue,
Wrought marvelously in the heart of Hugh,
As under snow the daemon of the Spring.
And momently it seemed a little thing
To suffer; nor might treachery recall
The miracle of being loved at all,
The privilege of loving to the end."

In Song of three friends, 1919, p.18:
"By each, to prove the faith of each anew:
For 'twas a rite of love between the two ...
And neither feared that either love might fail
Or either skill might falter."
| | |
| --- | --- |
| | Cowboy series: "The Tenderfoot", 191- |
* Newlin, Jon. "Lesbian and gay New Orleans history: Madame John Dodt's legacy #7." Ambush magazine (New Orleans). vol.14, no.20, [1996].
On William Spratling's life while living in New Orleans, and his friendships with William Faulkner, Sherwood Anderson, and Hart Crane.
* Newton, Ester. Cherry Grove, Fire Island: sixty years in America's first gay and lesbian town / Ester Newton. Boston, MA: Beacon, 1993.
Nissen, Axel. Manly love: romantic friendship in American fiction. Chicago; London: The University of Chicago Press, 2009. 229 p.
"The earliest explicit linking of homeless men with the emerging discourse on homosexuality that I have located is 'Homosexuality among Tramps,' which appears as an appendix to Havelock Ellis and John Addington Symond's Sexual Inversion (1897). The author of the article is 'Josiah Flynt' Willard (1869-1907), who after spending extended periods of time on the road and in tramp 'jungles' emerged toward the end of the nineteenth century, according to DePastino, as 'the nation's premier expert on tramps.' ... Flynt identifies what he calls 'three distinct classes' of 'low life': the 'Kids,' the 'Natives,' and the 'Old Bucks' -- that is to say, children between ten and fifteen years of age, middle-aged men, and elderly men." p.145
| | |
| --- | --- |
| | Cowboy series: "Branding", 191- |
O'Brien, Sharon. Willa Cather: the emerging voice / Sharon O'Brien. New York: Ballantine, 1987.
Cather (1873-1947) who grew up in Red Cloud, Nebraska, tried to destroy much of her correspondence, and avoided being labeled as a lesbian. Her attempts to conceal and camoflage are outlined by O'Brien's biography. Cahter's novel, Death Comes for the Archbishop (1927), takes place in Santa Fe. She had a summer home on Grand Manon, in Canada.
Oliker, S.J. Best friends and marriage: exchange among women / S.J. Oliker. Berkeley, CA: University of California Press, 1989. 213 p.
Oliker makes the distinction between romantic friendship and intimate friendship: the former declined after the 19th centur, but intimate friendships continued. The decline was linked to greater mixed-gender socializing, increased dating, the spread of psychoanalytic assumption about eroticism, rise of consumer culture and advertising, increased value of companionate marriage and change in structure of work and occupation. See: p.29-30.
* Over the edge: remapping the American West. Edited by Valerie J. Matsumoto and Blake Allmendinger. Berkeley, CA: University of California Press, 1999. 399 p.
| | |
| --- | --- |
| | Cowboy series: "The Round-up", 191- |
* Paley, Amit R. "The secret court of 1920." Harvard crimson. Nov. 21, 2002. (Harvard crimson online: http://www.thecrimson.com/article.aspx?ref=255428 and http://www.thecrimson.com/article.aspx?ref=255429; 2 parts, 19pp, viewed Jan. 10, 2003).
After investigations of the suicide of Cyril B. Wilcox a purge of about 14 suspected homosexuals, several being students at Harvard University, took place and the record was suppressed. Those investigated were blacklisted and forced out of Cambridge, Massachusetts. Under interrogation the names of those suspected came forth: Cyril B. Wilcox (who committed suicide), Harry Dreyfus[s], Kenneth B. Day, Harold W. Saxton, Ernest Weeks Roberts, Eugene R. Cummings (who also committed suicide in 1920), Pat [Ned] Courtney, Edward A. Say, Nathaniel S. Wollf, Joseph E. Lumbard, Jr., William Toomey, Keith P. Smerage (also committed suicide in 1930), Stanley Gilkey, Douglas B. Clark. Interesting also for the use of the terms "bringing out," "faggots," "faggoty," "homosexuality," and "queer" -- to say nothing of the telling letters sent to the parents of those named.

Donald [Douglas] Clark moved on to California's Mills College and published a book of poetry, The single glow, using the name "Axton Clark." He later moved to Denver and was librarian at the National Jewish Hospital.
* Paskman, Dailey; Spaeth, Sigmund. 'Gentlemen, be seated!': a parade of old-time minstrels / Dailey Paskman and Sigmund Spaeth. Garden City, NY: Doubleday, Doran, and Co., 1928. 247 p.
See: "The dark triangle" (p.91-94)
"Sex did not enter appreciably into the minstrel shows, beyond the inevitable double entendre of some of the jokes. But the afterpieces often had a plot of triangle type, and the woman in the case was, of course, played by a man, and therefore frankly burlesqued ... The ability to play a 'wench' (the regular term for female impersonators) was a real asset in the minstrel business, and most of the great comedians included some such parts in their repertoire." p.91.

"The fact that actual females appeared in the musical shows created a competition that was fatal to the "all-man" performances of the minstrels. What chance did they have against the beauty, charm, and cleverness of Lillian Russell ..." p.159.

Paskman mentions individual stars such as Billy Birch, Charlie Backus, Eugene d'Anseli, Lew Dockstader, Dan Gardner, Tony Hart, George Holland, "The Great" Leon, M.S. Pike, William (Billy) Henry Rice, "The Great" Ricardo, Jimmy Russell, Burton Stanley, ? The Stuart, Willis P. Sweatnam, and Henry Wood.
| | |
| --- | --- |
| | Cowboy series: "Calling the Bluff", 191- |
* Paulson, Don; Simpson, Roger. An evening at the Garden of Allah: a gay cabaret in Seattle / Don Paulson with Roger Simpson. New York: Columbia University Press, 1996. 167 p.
Includes information on the early 1900s gay life in Seattle and the American northwest, with much on cross-dressing male performers of the vaudeville circuit.
Peculiar people: Mormons and same-sex orientation. Salt Lake City, UT: Signature Books, 1991.
* Pellegrini, Ann. "A gay purge at Harvard, 1920." Gay and lesbian review worldwide 10(2): 10-12, March-April 2003.
Covers the same story uncovered by Amit R. Paley, on the suicide of Cyril B.Wilcox and others. Charles B. Clark is mentioned as the person forced from his Ph.D. program.
"You can't get gay here."

Chicago, IL: United States Publishing House, 1912. Copyright Max Stein.
* Peterson, Jane T. "'Not as other boys': Robert Edmond Jones and designs of desire." p.338-364. In Staging desire: queer readings of American theater history / Edited by Kim Marra and Robert A. Schanke. Ann Arbor, MI: University of Michigan Press, 2002. 404 p.
"During the first two decades of his career, Jones's [1887-1954] theories and designs had a far-reaching impact on commercial and experimental theater alike, including a number of historically significant 'firsts' in American theater." p.338.

"My long-held suspicion that the gaps in the story of Bobby Jones's life were, at least in part, a function of his very closeted homosexuality was affirmed by a particularly authoritative oral transmission of historical information. A well-known senior theater scholar who wishes to remain anonymous provided confirmation of Jones's homosexuality to Kim Marra, one of the co-editors of this volume." p.339.

Jones met Marsden Hartley and Charles Demuth through John Reed and Mabel Dodge. They all worked with the Provincetown Players in 1915-1916. In 1918 he travelled to Taos with Andrew Dasburg. He also mounted designs in New Mexico and Colorado in 1934, 1935, 1938 and 1941. (See The theatre of Robert Edmond Jones. Edited and with a chronology by Ralph Pendelton. Middelton, CT: Wesleyan University Press, 1958.)
Petrik, Paula. No step backward / Paula Petrik. Helena, MT: Historical Society Press, 1987.
Ch.2 "Capitalists with rooms: prostitution in Helena, 1865-1900," p.25-58.
"Was held up here."

Chicago, IL: United States Publishing House, 1912. Copyright Max Stein.
Pleck, E.; Pleck, J. The American man / E. Pleck and J. Pleck. Englewood Cliffs, NJ: Prentice-Hall, 1980.
"Men created opportunities to socialize independent of women, develop relationships with each other, some intimate ... encourage manly intimacy and affection, a love between equals, which was often lacking in sentiments toward the other sex." See: p.13.
* Plummer, Ken. "Mapping the sociological gay: past, presents and futures of a sociology of same sex relations." p.46-60. In Lesbian and gay studies: an introductory interdisciplinary approach. Edited by Theo Sandfort, Judith Schuyf, Jan Willem Duyvendak, and Jeffrey Weeks. London: Sage Publications, 2000.
"Recent historical studies in the USA such as George Chauncey's Gay New York, Allan Berube's Coming out under fire, and Ester Newton's Cherry Grove make it very clear that there were large hidden social worlds of homosexuality throughout this century and it would be surprising if a few sociologists had not investigated them. And yet currently the history of the sociology of homosexuality can be written as if nothing at all happened in the pre-World War II period. Indeed, whilst the public domain was full of discussion of sex, sociologists remained silent on every aspects of it." p.47-48.
* Prescott, Peter S. "Women on the frontier." Newsweek. March 16, 1981, p.88
Review of Pioneer women: voices from the Kansas frontier, by Joanna L. Stratton. "One woman, for instance, remembers a queerly dressed woman arriving at her house with a heavy satchel, asking to spend the night; only later was she told her quest was Jesse James."
"I could do this forever."

Chicago, IL: United States Publishing House, 1912. Copyright Max Stein.
* Quinn, D. Michael. Same-sex dynamics among nineteenth-century Americans : a Mormon example / D. Michael Quinn. Urbana, IL: University of Illinois Press, c1996. 477 p.
Profiles of lesbian/gay individuals, including actress Ada Dwyer Russell (1863-1952); Evan Stephens (1854-1930) leader of Mormon Tabernacle Choir.
* Rechnitzer, Peter A. "Dr. Bucke and Walt Whitman's homosexuality." Pharos. 48(4): 27-30, Fall 1985.
Richard Maurice Bucke, a Canadian, was Whitman's first biographer, and someone who ignored the homosexual element of Whitman's life. Bucke wrote the book Cosmic consciousness (1901), and was involved with the discovery of gold in the American West.
Reddin, P. Wild West Shows / P. Reddin. Urbana, IL: University of Illinois Press, 1999. 312 p.
101 Ranch Wild West Show and female impersonators, see: p.180, fn69.
* Richards, Jeffrey. "'Passing the love of women': manly love and Victorian society." ch.5, p.92-122. In Manliness and morality: middle-class masculinity in Britain and America, 1800-1940. Edited by J.A. Mangan and James Walvin. Manchester: Manchester University Press, 1987. 278 p.
"Since Freud, many commentators have found it impossible to dissociate close male friendship from homosexuality, Yet, it is by no means as simple as some would make out, for human relationships are crucially affected by cultural, historical and social conditions. Changes in language and modes of expression render statements of affection from previous ages highly complex and ambiguous matters". p.92.

"Ronald Hyam has perceptively pointed to sexual and emotional repression as one of the dynamics of empire and expansion ... Equally striking is the devotion of many of [Imperial proconsuls] to boys. Explorers like Henry M. Stanley and Edward Eyre had a succession of favoured boy companions. Stanley celebrated one of his in a novel for boys, 'My Kalulu: prince, king and slave'." p. 107.
* Richards, Neil. "All frocked up: glimpses of cross-dressing in Saskatchewan" / curated by Neil Richards. Saskatoon, SK: University of Saskatchewan Library, 2003. [4] p.
Online exhibit: http://scaa.usask.ca/gallery/allfrockedup/en_intro.shtml

An excellent display of female impersonation, and some male impersonation, in western Canada, during the early part of the 20th century. It's Canadian and it's excellent.
"I hope you won't forget me."

Chicago, IL: United States Publishing House, 1912. Copyright Max Stein.
* Riggs, Lynn (1899-1954). Green grow the lilacs: a play / Lynn Riggs. New York: Samuel French, 1931.
A play set in 1900 Indian Territory, which was the basis for the musical "Oklahoma". Riggs was a friend of Witter Bynner, and visited him in Santa Fe.
Riley, James Whitcomb. The letters of James Whitcomb Riley. Edited by Lyon Phelps. Indianapolis, IN: Bobbs-Merrill, 1930.
* Robb, Graham. Strangers: homosexual love in the 19th [nineteenth] century . London: Picador (Pan Macmillan); New York: Norton, 2003 342pp.
See review by Susan Feldman; mostly European content.
Robertson, James. "Horatio Alger, Andrew Carnegie, Abraham Lincoln and the cowboy." Midwest quarterly. 20: 253, 1979.
Robinson, Paul. The modernization of sex / Paul Robinson. Ithaca, NY: Cornell University Press, 1989, c1976. 200 p.
"On my broncho from dear Cheyenne."

Germany: Th.E.L. (ThEL), 1907. "Made in Germany." "Photo only copyright 1907, De Witt C. Wheeler." Theochrom Serie no.18070-4
Rodger, Gillian. Male impersonation on the North American variety and vaudeville stages, 1868-1930 / Gillian. Rodger. PhD dissertation. University of Pittsburgh, 1998.
* Roediger, David R. The wages of whiteness: race and the making of the American working class / David R. Roediger. London; New York: Verso, 1991. 191 p.
"The shows would not have wholly disappointed those seeking titillation. They of course transcended the bonds of decorum set by revivalists and propurity reformers, not to mention the male artisan-based Graham Society, whose devotees ate bland food to curb the flow of sexual juices and harness their energies for productive purposes. Minstrelsy contained its full share of sexual puns, including homoerotic ones. It included very considerable transvestism -- with troupes being almost univerally all-male and with early minstrel stars gaining fame for 'looking the wench'." p.121

See: "White skins, black masks: minstrelsy and white working class formation before the Civil War." p.115-122
Rogin, Michael. Subversive genealogy: the politics and art of Herman Melville / Michael Rogin. New York: Knopf, 1979. 354 p.
"Here is room for two dear, but after the wedding."

Germany: Th.E.L. (ThEL), 1907. "Made in Germany." "Photo only copyright 1907, De Witt C. Wheeler." Theochrom Serie no.18070-2
Rollins, Philip Ashton. The cowboy: an unconventional history of civilization on the old-time cattle range / Philip Ashton Rollins. Albuquerque, NM: University of New Mexico Press, 1979.
Rollins gives a 1922 description of working cowboy's use of song to serenade the night herd." p.267.
Roscoe, Will. "That is my road: the life and times of a Crow berdache. Montana: the magazine of Western history. 40: 46-55, 1990.
* Roscoe, Will. "Was We'wha a homosexual? Native American survivance and the two-spirit tradition." GLQ. 2(3): 193-235, 1995.
We'wha (1850-1896), the Zuni man-woman (a berdache from New Mexico).
"Sweet Ann, Sweet Ann, hop on my broncho."

Germany: Th.E.L. (ThEL), 1907. "Made in Germany." "Photo only copyright 1907, De Witt C. Wheeler." Theochrom Serie no.18070-1
Rosenberg, Charles. "Sexuality, class and role in 19th-century America." p.219-254. In The American man. Edited by Elizabeth Pleck and Joseph H. Pleck. Englewood Cliffs, NJ: Prentice-Hall, 1980.
* Ross, Becki. "Bumping and grinding on the line: making nudity pay." Labour/le travail. 46 : 221-250, Fall 2000.
"In this paper, I ruminate on complicated entanglements of sexuality, labour and social class in the history of 20th century erotic entertainment in North America. I utilize preliminary archival and ethnographic findings from my case study on burlesque and striptease in Vancouver, 1945-1980, to explore the working conditions and artistic influences of former dancers, the racialized expectations of erotic spectacle, and the queer dimensions of strip culture." p.227.
Rothman, Ellen K. Hands and hearts: a history of courtship in America / Ellen K. Rothman. Cambridge, MA: Harvard University Press, 1987, c1984. 370 p.
Rotundo, E. Anthony. American manhood: transformations in masculinity from the Revolution to the modern era / E. Anthony Rotundo. New York: Basic Books, 1993. 382 p.
"Home we will ride honey, as one."

Germany: Th.E.L. (ThEL), 1907. "Made in Germany." "Photo only copyright 1907, De Witt C. Wheeler." Theochrom Serie no.18070-2
Rotundo, E. Anthony. "Body and soul: changing ideals of American middle-class manhood." Journal of social history. 16: 23-28, 1983.
* Rotundo, E. Anthony. "Learning about manhood: gender ideals and the middle-class family in nineteenth-century America." ch.2, p.35-51. In Manliness and morality: middle-class masculinity in Britain and America, 1800-1940. Edited by J.A. Mangan and James Walvin. Manchester: Manchester University Press; New York: St Martin's Press, 1987.
"There were, in fact, three ideals of manhood held up to middle-class men in the nineteenth-century North. We will call them here the Masculine Achiever, the Christian Gentleman and the Masculine Primitive ... The ideal of the Masculine Primitive honoured not only vigour and strength of body, but vigour and strength of personality as well." p.36,41.
* Rotundo, E. Anthony. "Romantic friendship: male intimacy and middle-class youth in the northern United States, 1800-1900. Journal of social history. 23(1) pt.1: 1-25, 1989.
* Ruess, Everett. On desert trails with Everett Ruess / Everett Ruess. With introduction by Hugh Lacy, and foreword by Randall Henderson, editor Desert Magazine. Palm Desert, CA: Desert Magazine Press, 1950. 80 p. 2nd ed. Includes some poems.
* Ruess, Everett. On desert trails with Everett Ruess. Commemorative ed. Introduction by Hugh Lacy; foreword by Randall Henderson; edited and with an afterword by Gary James Bergera; epilogue by W.L. Rusho. Salt Lake City, UT: Gibbs Smith, 2000. Originally published by Desert Magazine Press, El Centro, California, 1940. 130 p. Includes some poems.
In his epilogue, W.L. Rusho comments: "Mark Taylor, author of Sandstone Sunsets: In Search of Everett Ruess ... a book that deals tangentially with Everett's disappearance, makes the conjecture -- based, as the author states, on 'unsubstantiated evidence' -- that Emery Kolb [a photographer living on the south rim of the Grand Canyon] may have been gay or at least bisexual. On the same type of evidence, Taylor further suggests that while on a photographic trip to southern Utah, Kolb killed Everett for rejecting his advances. Furthermore, he believes the skeleton in Kolb's boat [found after Kolb's death] was only 5 feet 7 inches tall and could indeed have been Everett." p.104

Gary Bergera suggests that perhaps Everett committed suicide, but also brings up his sexual orientation, p.115-116.
* Ruess, Everett. Wilderness journals of Everett Ruess. Edited and with an introduction by W.L. Rusho. Salt Lake City, UT: Gibbs Smith, 1998. 216 p.
Everett Ruess, in late 1934 and at the age of twenty, disappeared while hiking in south of Escalante, Utah. His body was never discovered, although his two burros were found in a rough pen; his saddle and artist supplies had also disappeared.

"Some have questioned Everett's sexual orientation, based on the phrasing in some of his letters. Yet, save for the May 1932 emotionally bitter separation from his two boyhood friends in Arizona, nothing in his journals would even hint at a homosexual tendency." p.15.

On May 29, 1932, he wrote about a companion, but didn't mention of which sex: "I wish I had a companion, some one who was interested in me. I would like to be influenced, taken in hand by some one, but I don't think there is anyone in the world who knows enough to be able to advise me. I can't find an ideal anywhere. So I am afraid of myself. Obscurantism." p.33.

A few passing comments about Ruess' sexual awareness: "At night he [Lefty Johnson, a young Navajo] wanted to sleep with me, outside. He crawled under and snored irritatingly. Late at night, the sky darkened, wind whistled, and a light shower moistened the air. We moved inside." July 7, 1932, p.58.
Rupp, Leila. A desired past: a short history of same-sex love in America / Leila Rupp. Chicago, IL: University of Chicago Press, 1999. 199 p.
In a review by Nancy Unger (CLGH newsletter, 14(2), Fall 2000): Rupp displays "an impressive creativity in presenting and analyzing sources, carefully differentiating between public pronouncements and private practices ... Her projection that 'same-sex affection, love, and desire ... may well have flourished' among people who lived in predominantly single-sex communities (like the western frontier) is true enough ... her argument would be better served to simply present her plethora of compelling examples and allow her readers to come to their own conclusions about their representativeness." p.33-34.
* Rusho, W.L. Everett Ruess: a vagabond for beauty / W.L. Rusho. With letters of Everett Ruess ; introduction by John Nichols; afterword by Edward Abbey. Salt Lake City, UT: Gibbs M. Smith (Peregine Smith Books), 1983. 228 p.
"It is that feeling of comradeship and sharing that I miss most out here. True, I have had many experiences with people, and some very close ones, but there was too much that could not be spoken. I had a strange experience with a young fellow at an outpost, a boy I'd known before. It seems that only in moments of desperation is the soul most truly revealed. Perhaps that's why I am so often so unrestrained, for always I sense the brink of things." [May 1934] p.150.
[Sex in the West Introduction] [Contents] [Previous page] [Next page]
---
[Homepage]
[Introduction]
[Cowboy Poetry]
[Cowboy Songs]
[Postcards]
"Whereof the shining goal was comradeship."
Contact owner: Alan V. Miller at millera@cowboysong.com
Last revised: November 16, 2011