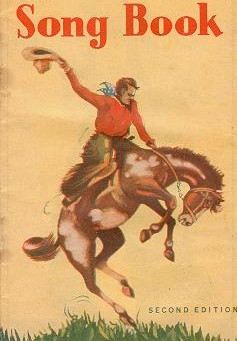 VOICES WEST: SEX IN THE WEST COWBOY-RELATED DOCUMENTS
Sex in the West Bibliography: Daniel - Fussell

[Homepage] [Introduction] [Cowboy Poetry] [Cowboy Songs] [Postcards]
---
<! -- TOP-OF PAGE LINKS --> [Sex in the West Introduction] [Contents] [Previous page] [Next page] Sex in the West Bibliography: Daniel - Fussell

* Indicates from the collection of Alan V. Miller

Daniel, F.E. "Castration of sexual perverts." Texas medical journal. 9(6): 255-271, December 1893.
Besides referring to sodomy and pederasty, the article reveals the racism prevalent in the turn-of-the-century eugenics movement.
| | |
| --- | --- |
| | Alan V. Miller on pony, 1951, Cornwall, Ontario |
Daniel, F.E. "Castration of sexual perverts." Texas medical journal. 27: 369-385, 1911-1912.

Davis, Ronald L. A history of opera in the American West / Ronald L. Davis. Englewood Cliffs, NJ: Prentice-Hall, 1965. 178 p.
See p.1-14: Opera in the early West was really no more than vaudeville.
* D'Emilio, John. "The stuff of history: first-person accounts of gay male lives." Journal of the history of sexuality. 3(2): 314-319, October 1992.
In a review of 3 books, including Between the acts: lives of homosexual men, 1885-1967 (1991), D'Emilio writes "First, I was less impressed by evidence of change over time than I was by the persistence of urban-rural differences. Whether the subject is Britain in the 1920s or East Germany in the 1980s, a huge gulf separates men in large cities from those in villages and the countryside. The contrast is more than a question of greater or fewer opportunities for sex or an autonomous gay life. It involves the meaning that men attribute to experience and the very kind of life they want and choose to have." p.318.
| | |
| --- | --- |
| | Alan V. Miller on pony, 1983, Wall Drug Store, Wall, South Dakota |
* D'Emilio, John. Sexual politics, sexual communities: the making of a homosexual minority in the United States, 1940-1970 / John D'Emilio. Chicago, IL: University of Chicago Press, 1983.
One of the influential books on lesbian/gay history, although it covers material more recent than the pre-WWII period.
D'Emilio, John; Freedman, Estelle B. Intimate matters: a history of sexuality in America / John D'Emilio and Estelle B. Freedman. New York: Harper and Row, 1988.
See: "Part III. Toward a new sexual order, 1880-1930."
Besides referring to sodomy and pederasty, the article reveals the racism prevalent in the turn-of-the-century eugenics movement.
| | |
| --- | --- |
| | David Hayes on pony, 1958, [Toronto] |
* Deitcher, David. Dear friends: American photographs of men together, 1840-1918 / David Deitcher. New York: Abrams, 2001. 159 p.
"Scholars have managed to identify the context, if not always the meaning, of many of the photographs of the men who headed west after news spread that on January 24, 1848, gold had been discovered at Sutter's Mill in California. Most of these photographs are daguerreotypes that show individuals posing forthrightly amid attributes of the miner's trade ... 'Forty- niners' also posed in groups ... It was not unusual in such group shots for men to pose with an arm around a friend's shoulder ... More remarkable is the uniquely tender way in which the same man rests his other hand on top of his friend's, which rests comfortably on the former's knee." p.84.

See also: "Cow boy dance 'stag'," p.33, one of over one hundred vintage photographs depicting male-male intimacy.
* Delpar, Helen. "The color of silver: William Spratling, his life and art / The silver gringo : William Spratling and Taxco." The Hispanic American historical review. 81(2): 399-401, May 2001.
"Another topic that the two authors [Taylor Littleton and Joan Mark] approach differently is William Spratling's sexuality. Littleton does not mention the subject until page 231, when he refers to Spratling's homosexual tendencies, which he says 'had lain discreetly latent' in New Orleans and during his early years in Mexcio. Mark traces evidence of Spratling's homosexuality from the outset, even reporting a rumor that it was a homosexual incident that led to his resignation from Tulane in 1928."
| | |
| --- | --- |
| | Marcella, [U.S.A.], 1939 |
Diggs, Marylynne. "Romantic friends or a 'different race of creatures'? The representation of lesbian pathology in nineteenth-century America." Feminist studies. 21(2): 317-340, Summer 1995.
"I agree with [Martha] Vicinus that the romantic friendship hypothesis exaggerates the extent to which intimate and primary relationships between women were accepted ... I would future argue that the continued reliance on the romantic friendship model overlooks the pathologizing and the resistant discourses that emerged in the United States well before the turn of the century." p.320.
* Dijkstra, Bram. Idols of perversity: fantasies of feminine evil in fin-de-siecle culture / Bram Dijkstra. New York; Oxford: Oxford University Press, 1986. 453 p.
"Thus, one of the most characteristic aspects of the development of male same-sex attachments at the turn of the [19th] century was the notion of writers and artists that somehow woman had failed the test of being the proper nurturer of the adolescent blond gods who represented the storm troopers of the soul poised to stage humanity's invasion of the world of disembodied essences. Since, on the other hand, the artists had a much clearer perception of woman's proper function than woman herself, they were willing to provide the example and take woman's place. Consequently much of the strong homosexual impulse in the culture of the period expressed itself in an arrogant siding with the dominant male heterosexual assertion of the inherent superiority of the male in all things. Men, it was decided, were clearly better at doing the woman's job in a personal relationship than women themselves." p.205.
| | |
| --- | --- |
| | Marcella, [U.S.A.], 1939 |
Dorson, Richard M. American folklore and the historian / Richard M. Dorson. Chicago, IL: University of Chicago Press, 1971.
"Whole code of cowboy behavior and values can be constructed from the songs." p.68.
Duberman, Martin B. About time exploring the gay past / Martin B. Duberman. New York: Dutton, 1991. 377 p.
See: "1880: uncensoring the mountain chant," on Navajo sexuality and censored work of Washington Mathews, 1887.
| | |
| --- | --- |
| | Cambridge, Mass.: W.J. Nolan and Co., 1900s |
* Duberman, Martin B. "'Writhing bedfellows' in Antebellum South Carolina: historical interpretation and the politics of evidence." p.153-168. In Hidden from history: reclaiming the gay and lesbian past. Edited by Martin Duberman, Martha Vicinus and George Chauncey. New York: New American Library, 1989.
1826 letters between Jeff Withers and James H. Hammond.
* Duberman, Martin Bauml; Eggan, Fred; Clemmer, Richard (eds.). "Documents in Hopi Indian sexuality: imperialism, culture and resistance." Radical history review. 20: 99-130, Spring/Summer 1979.
From previously unaccessible Smithsonian ethnographic material eight "depositions" or affidavits, recorded between 1914 and 1921 in New Mexico and Arizona, are used by the authors.
* Duggan, Lisa. Sapphic slashers: sex, violence, and American modernity / Lisa Duggan. Durham, NC; London [England]: Duke University Press, 2000. 310 p.
An award winner book on the 1892 Memphis trial of Alice Mitchell. Duggan describes "the masculine/feminine contrast, the love triangle, and the marriage plan" of this, and similar cases, p.153.

"The press, sexologists, and others continued to pluck the story of Alice Mitchell from its context in 1892 Memphis, and set it down as part of the empirical basis of changing theories, from the somatic hereditarianism of 1890s neurology to the vulgar Freudian psychodynamic formulations of the 1950s." p.198.
* Duggan, Lisa. "The trials of Alice Mitchell: sensationalism, sexology, and the lesbian subject in turn-of-the-century America." Signs. 18(1): 791-814, 1993.
On the 1892 insanity trial of nineteen-year old Mitchell, who murdered her seventeen-year old "lover," Freda Ward. Although the trial took place in Memphis, Tennessee, it received wide coverage in American newspapers. [See also Daneel Buring].

Duggan sees "three essential structural elements" in the story: Alice's "masculine" characteristics and Freda's "feminine" manner; the conflict over the nature of their relationship; and the conflict between the "engaged" couple and their female relatives. "Male relatives and the world of male authority were not brought into the affair until after the murder; only then did Alice come into direct conflict with the male-dominated institutions of law and medicine." p.798-799.
| | |
| --- | --- |
| | Two unidentified girls dressed as cowgirls, [U.S.A.], 1930s |
* Durden, Michelle "Not just a leg show: gayness and male homoeroticism in burlesque, 1868-1877." Thirdspace 3(2): ?, March 2004. Mostly on New York, Boston and San Francisco
Edmonds, Sarah Emma. Nurse and spy in the Union Army. Hartford, CT: W.S. Williams, 1865. (Originally published as Unsexed, or, the female soldier. Philadelphia: Philadelphia Publishing, 1864.)
Born in New Brunswick, Canada, at age 15 she posed as a man, "Frank Thompson," moved to Flint, Michigan. Here, in 1861, she joined the Michigan Infantry.
* Egan, Geoffrey. These things may lead to the tragedy of our species: notes toward a history of homosexuality in Canada, 1890- 1930 / Geoffrey Egan. Paper for Concordia University history course N312/3, April 1980. 32, [13] p. Copy at the Canadian Lesbian and Gay Archives, Accession 1995-135.
* Eitner, Walter H. Walt Whitman's western jaunt / Walter H. Eitner. Lawrence, KS: Regents Press of Kansas, 1981. 123 p.
Whitman's 1879-80 trip to Denver, spending several months in St. Louis. No mention is make of how his traveling companions interpreted Whitman's reception, knowing the debate around his Leaves of grass.
* Eldredge, Charles C. "The faraway nearby: New Mexico and the modern landscape." In Eldredge, Charles C.; Schimmel, Julie; Truettner, William H. Art in New Mexico, 1900-1945: paths to Taos and Santa Fe. Washington, DC: National Museum of American Art; New York: Abbeville Press, 1986. 227 p.
"In 1981, twenty-five years after Joseph Sharp first painted at Taos, Marsden Hartley was lured there by the recent convert Mabel Dodge (Luhan). For him, it was to be a brief, but significant, experience in his restless career, during which he developed a distinctive response to landscape ... His celebrity, and his vanity, did little to endear him to the established painters in Taos, which he in turn dismissed as 'the stupidest place I ever fell into ... a society of cheap artists from Chicago and New York." p.153
* Ellis, Havelock. Studies in the psychology of sex / Havelock Ellis. Vol. 1. New York: Random House, 1937, c1905.
See "Sexual inversion in women": "It is, moreover, noteworthy that a remarkably large proportion of the cases in which homosexuality has led to crimes of violence, or otherwise come under medicolegal observations, has been among women ...

The first conspicuous example of this tendency in recent times is the Memphis case (1892) in the United States ... In this case a congenital sexual invert, Alice Mitchell, planned a marriage with Freda Ward, taking a male name and costume ...

There have been numerous cases in America more recently. One case (for some details concerning which I am indebted to Dr. J.G. Keirnan, of Chicago) is that of the 'Tiller Sisters,' two quintroons, who for many years had acted together under that name in cheap theaters. One, who was an invert, with a horror of men dating from early girlhood, was sexually attached to the other ..." p.200-201.
* Eltinge, Julian. "Julian Eltinge." In F. Michael Moore Drag! Male and female impersonators on stage, screen and television. Jefferson, NC: McFarland and Company, 1994. p.95-115.
Born in 1883, William Julian Dalton moved to Butte, Montana; Eltinge's "Vaudeville Review" played the Metropolitan Theatre in Seattle in June 1919 (See Don Paulson, p.7).
* Emery, Kim. "Steers, queers and manifest destiny: representing the lesbian subject in turn-of-the-century Texas." Journal of the history of sexuality. 5(1): 26-57, July 1994.
In 1895, John Carhart wrote a novel, Norma Trist; or, Pure Carbon: a story of the inversion of the sexes, using a Texas story line about lesbians, this essay deals with early 'truths' about the lesbian experience in the United States.
* Encyclopedia of homosexuality. Edited by Wayne Dynes. New York: Garland, 1990.
See index for "cowboys" and references under "Homosociality," "Music, popular," "United States - The coming of the twentieth century," and "Working class, eroticization of."
* Ericksen, Julia A. Kiss and tell: surveying sex in the twentieth century / by Julia A. Ericksen with Sally A. Steffen. Cambridge, MA: Harvard University Press, 1999.
An in-depth history of sex surveys done in the United States, covering the one hundred years of the 20th century.
* Ernest, Robert. Weakness is a crime: the life of Bernarr Macfadden. Syracuse, NY: Syracuse University Press, 1991. 278 p.
Bernarr Macfadden (1868-1955) was the publisher of the magazine Physical Culture (1899-1947). In 1907, he was arrested for circulating obscene materials through the mails to a minor -- a 16-year-old girl who received an issue of Physical Culture that included a frank short story on sexually-transmitted diseases.
* Escoffier, Jeffrey. "The political economy of the closet: notes toward an economic history of gay and lesbian life before Stonewall." p.123-134. In Homo economics: capitalism, community, and lesbian and gay life. New York: Routledge, 1997. 283 p.
Although the paper covers mostly the post-WWII period leading up to 1969, Escoffier notes: "The economic repercussions of social stigma and criminalization vary considerably, of course, in different historical periods, or in diverse communities, or in varied geographical regions; or for various characteristics like age, gender, physical traits, class or race. But organizing a social world around a stigmatized and illegal identity generates a number of predictable outcomes: one is that, in order to manage secrets, individuals' lives are shaped around the bifurcation between public and private space and time; a second is that many people with strong homosexual desires tend to migrate to large cities, which, because of their anonymity, offer an expanded space for the stigmatized private dimensions of homosexual life; a third is that whatever social life exists takes place in the shadow of protection rackets; a fourth is the necessity of coded cultural representations. All of these dimensions of lesbian and gay life in the postwar period had economic consequences." p.125-126.
Essays on gay literature. Edited by Stuart Kellogg. New York: Harrington Park Press, 1985.
| | |
| --- | --- |
| | Chicago, Ill.: W.J. Nolan and Co., 1900s |
Etulain, Richard W. "The historical development of the western." Journal of popular culture. 7: 717-726, Winter 1973.
Etulain, Richard W. "Origins of the western." Journal of popular culture. 5: 799-805, Spring 1972.
Etulain, Richard W. Western American literature: a bibliography on interpretive books and articles / Richard W. Etulain. Vermillion, SD: Dakota Press, 1972.
* Evans, R. Tripp. Grant Wood: a life. New York: Alfred A. Knopf, 2010. 402 p.
Heavily illustrated and deals well with Wood's homosexuality.
See review by Deborah Solomon "Gothic American." New York Times Book Review, Oct. 31, 2010, p.6-7
* Ewers, John C. "In the California mines: Charles Nahl and Thomas A. Ayres." p.150-163. Artists of the old West. Garden City, NY: Doubleday and Co., 1965. 240 p.
"Sunday morning in the mines" (1872)

Although co-credited to some paintings, A. Wenderoth is not mentioned in the text; a younger half-brother, Hugo William Arthur Nahl, is mentioned. Both "Saturday evening in the mines" (1856) and "Sunday morning in the mines" (1872) are illustrated. On the right of the latter, in what I call the "cleanliness/godliness" half, the two bathers have been cropped.

"A shy bachelor, Charles lived with his mother and sister in a modest home on Bush Street [San Francisco] until his death in 1878, at the age of fifty-nine ... Charles Nahl's first-hand knowledge of mining camp life, his technical skill, his passion for accuracy in portraying miners as active, interesting human beings, and his productivity, make him the leading pictorial interpreter of the gold rush." p.159.
* Faderman, Lillian. "Review: Improper Bostonians." Lambda book report 7(2):10-11, September 1998.
Improper Bostonians (1998) recovers the lesbian and gay history of Boston, and includes many photographs of prominent names in art/literature of the east coast of the United States.
* Faderman, Lillian. Surpassing the love of men: romantic friendship and love between women from the Renaissance to the present / Lillian Faderman. New York: William Morrow, 1981. 496 p.
See especially "Boston marriage," p.190-203.
* Faderman, Lillian; Timmons, Stuart. Gay L.A.: a history of sexual outlaws, power politics, and lipstick lesbians. New York: Basic Books, 2006. 431 p.
See especially "The silent era," p.7- 137, for pre-1950s period, including early Hollywood.
* Fiedler, Leslie A. "The basic myths, I: the end of petticoat government." p.50-62. In The return of the vanishing American. New York: Stein and Day, 1968. 192 p.
See: "The third [myth] is the 'Myth of the Good Companions in the Wilderness', the story of a White Man and a Red who find solace and sustenance in each other's love, identified for most Americans with the encounter of Fenimore Cooper's Natty Mumppo and Chingachgook over the embers of a dying fire." p. 51.
Fiedler, Leslie A. "Come back to the raft again, Huck, honey." Partisan review. June 1948.
Fiedler, Leslie A. Love and death in the American novel / Leslie A. Fiedler. Cleveland, OH: World Pub. Co., 1964. 603 p.
Fiedler, Leslie A. Love and death in the American novel / Leslie A. Fiedler. Rev. ed. New York: Stein and Day, 1966. 512 p.
"Pairing of a white man with a man of color, e.g., Ishamel and Queequeg, Huck Finn and Nigger Jim." [Rather homophobic because of his Freudian analysis of American fiction.]
Fiedler, Leslie. What was literature: class culture and mass society / Leslie A. Fiedler. New York: Simon and Schuster, 1982. 258 p.
* Fischer, Erica. Aimée and Jaguar: a love story, Berlin 1943 / Erica Fischer. Translated from the German by Edna McCown. Los Angeles; New York: Alyson Books, 1998, c1994. 274 p.
Love story unfouls between Elisabeth Wust and Felice Schragenheim (1922-1944?), during the Nazi period in Germany.
Fisher, Clive. Hart Crane: a life / Clive Fisher. New Haven, CT: Yale University Press, 2002. 567 p.
See part 6: "Mexico, March 1931-April 1932" p.439-506. American poet Hart Crane (1899-1932) committed suicide while returning to New York after a year in Mexico. There he met with Marsden Hartley, Witter Bynner and William Spratling. Crane's tormented life and alcoholism are dealt with in this section.
Walker Evans knew Crane and helped him prepare for his trip to Mexico. Earlier, Evans provided the frontispiece to Crane's book of poetry, The bridge.
See also biography by Paul Mariani.
Flanagan, John T. "John G. Neihardt, chronicler of the West." Arizona quarterly. 21: 7-20, Spring 1965.
On the poet John G. Neihardt (1881-1973).
* Folsom. James K. The American Western novel / James K. Folsom. New Haven, CT: College & University Press, [1966]. 224 p.
Index ("Sex"): 32-33,52-53,66,86-87,100,165.
Forman, James. Soft cover manhood: the rise of the paperback and the fear of unmanliness, 1939-1959 / James Forman. PhD dissertation. University of Southern California, 1991.
Foucault, Michel. "Friendship as a way of life." In Foucault live: interviews, 1966-1980. New York: Semiotext(e), ?. p204- 206
Frantz, Joeb; Choate, Julian E. The American cowboy: the myth and the reality / Frantz Joeb and Julian E. Choate. Norman, OK: University of Oklahoma Press, 1968, c1955. 232 p. Reprint. London: Thames and Hudson, 1956.
Survey of fiction, 1890-1915. Don Walker claims "they note that range fiction after 1915 had a flirtation with Freud." p. 197.
| | |
| --- | --- |
| | [United States]: s.n, 1900s |
Franzen, Trisha. "Differences and identities: feminism and the Albuquerque lesbian community." Signs. 18(4): 891-906, Summer 1993.
Pre-Stonewall (1969) history of Albuquerque.
* Freedman, Estelle B. "The prison lesbian: race, class and the construction of the aggressive female homosexual, 1915-1965." Feminist studies 22(2): 397-423, Summer 1996. (Reprinted in Sex, love, race: crossing boundaries in North American history. Edited by Martha Hodes. New York: New York University Press, 1999.)
Although not on western prisons, Freedman explores the criminological literature and records of the pre-WWII Massachusetts Reformatory for Women. Most accounts usually represented African-American women prisoners as masculine or aggressive and their white lovers as 'normal' feminine women who return to heterosexual relations upon release from prison (p.399).
From silence to celebration! A guide to Portland's historic gay sites. Portland, OR: Gay and Lesbian Archives of the Pacific Northwest. 199-
Fussell, Paul. The Great War and modern memory / Paul Fussell. New York: Oxford University Press, 1975. 363 p.
Homosexuals in the trenches of WWI.
[Sex in the West Introduction]
[Contents]
[Previous page]
[Next page]
---
[Homepage]
[Introduction]
[Cowboy Poetry]
[Cowboy Songs]
[Postcards]
"Whereof the shining goal was comradeship."
Contact owner: Alan V. Miller at millera@cowboysong.com
Last revised: March 20, 2012