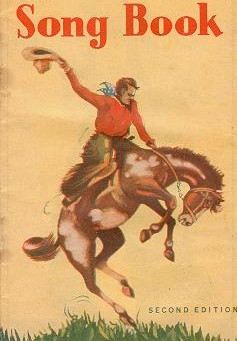 VOICES WEST: COWBOY POSTCARD SECTION
Postcards: Introduction
This page http://www.cowboysong.com/cards/cardsint.html
[Homepage] [Introduction] [Cowboy Poetry] [Cowboy Songs] [Sex in the West]
---
<! TOP-OF PAGE LINKS --> [Contents] [Next page]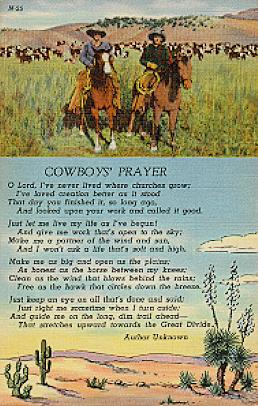 Cowboys' Prayer - author unknown"
195-
Postcards:
Of the three major parts of this homepage, the postcard section may contain rarer material than either the cowboy poetry or song ones. But unlike these, locating publishing information presents a challenge.
Collectors prefer unmarked cards, but if it wasn't for the canceled postage stamps the dates of many cards would be difficult to determine. So I can safely say that the Walter Davis poem, "We're going some ," was published before 1909. In the record I have listed the date as [c1909], and this should not to be confused with a copyright date -- ca1909 would be the date that a cataloguer would assign.
When a location is not given, I've included [S.l.] rather than [n.p.], which is a more practical abbreviation for "no place." Another convention, [s.n.], is used when the publisher is unknown. So, for the previous example, since I cannot find any publishing information, I've included [S.l. : s.n.]. In time I may be able to replace this with more complete information.
Several cards include additional information, such as distributor or series numbering, and this is also noted after the date. If the date can't be determined, I've noted this by adding "nd." If the decade can be roughly estimated, I've opted for this, e.g., 195-.
There is one book that may be useful for uncovering western postcard publishing history for the period 1930s-1950s: Roger LeRoque and Nick Farago's L.H. "Dude" Larsen postcard checklist and guide (Temple City, CA: R & N Postcard Co., 1979, 40 p.). I don't have a copy and the Library of Congress doesn't seem to have it catalogued.
And, like the poetry and song sections, I'm always interested in buying material that I don't have (i.e. no asterisk beside the title). Feel free to post a message to my e-mail address, or write: Alan Miller, #4-532 Palmerston Blvd., Toronto, Ontario, M6G 2P5.
---
[Homepage]
[Introduction]
[Cowboy Poetry]
[Cowboy Songs]
[Sex in the West]
"Whereof the shining goal was comradeship."
Contact owner: Alan V. Miller at millera@cowboysong.com
Last revised: February 2, 2001