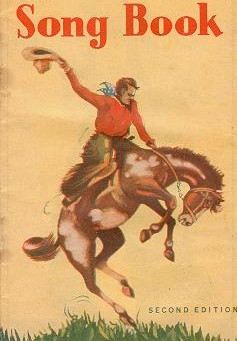 VOICES WEST: COWBOY SONG SECTION
Songs: Uncle - Uranga
This page http://www.cowboysong.com/songs/songsu1.html
[Homepage] [Introduction] [Cowboy Poetry] [Postcards] [Sex in the West]
---
<! -- TOP-OF PAGE LINKS --> [Songs Introduction] [Contents] [Previous page] [Next page] Titles: Uncle - Uranga

* Indicates from the collection of Alan V. Miller

* Uncle Ezra's [Patrick J. Barrett] famous songs, memory verses and thoughts of the day. New York: Wm. J. Smith, 1937. 43 p.

Uncle Henry's songs from Kentucky. New York: Hill and Range Songs Inc., c1953.

* Uncle Pete and Louise's, "friendly songs for friendly people." New York: Bob Miller Inc., 1936. 66 p. Pete and Louise Raines. 32 songs.
* Uranga, Emilo D. Alla en el rancho grande (My ranch). New York: Edward B. Marks Music, 1934. 4 p.

"Mexican cowboy song."
"Bing Crosby's enormous hit on Decca Record no.2494."
"Spanish lyrics by J. del Moral; English lyrics by Bartley Costello."
"Music by Emilio D. Urgana."
[Songs Introduction] [Contents] [Previous page] [Next page]
---
[Homepage]
[Introduction]
[Cowboy Poetry]
[Postcards]
[Sex in the West]
---
"Whereof the shining goal was comradeship."
Contact owner: Alan V. Miller at millera@cowboysong.com
Last revised: July 17, 2008