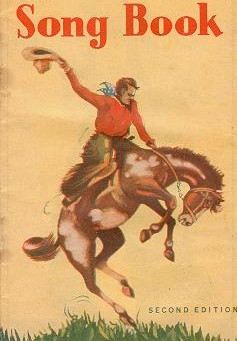 VOICES WEST: COWBOY SONG SECTION
Songs: X - Z
This page http://www.cowboysong.com/songs/songsx1.html
[Homepage] [Introduction] [Cowboy Poetry] [Postcards] [Sex in the West]
---
<! -- TOP-OF PAGE LINKS --> [Songs Introduction] [Contents] [Previous page] Titles: X - Z

* Indicates from the collection of Alan V. Miller

- X -

- Y -
* Yellow Rose of Texas. Toronto: Canadian Music Sales, 1955. 3 p.

"King Ganam 'King of the fiddle' and his Sons of the West."
Yodeling cowboy, Wilf Carter's, broadcasting over Columbia Network as Montana Slim, cowboy songs with yodel. Toronto: Gordon V. Thompson, nd.
* Your favorite radio star's personal selection of "memories" songs assembled in Kate Smith "Memories" song book: containing 100 world famous numbers that will live forever, also many colorful illustrations and action photographs. Compiled by Kate Smith; edited and arranged by Paul Hill; special lyrics by J. Macklyn Meskill. New York: Robbins Music Corp., c1933. 63 p. 100 songs. See: "Home on the Range", "Red River Valley".
- Z -
* Zamecnik, J.S. Redskin: theme song of the Paramount picture "Redskin." Cleveland, OH: Sam Fox Publishing, 1929. 5 p.

"Lyric by Harry D. Kerr."
"Music by J.S. Zamecnik."
Zeke Manners collection of most popular hill-billy songs. New York: Robbins Music Corp., c1940.
* Zeke Manner's hill billy song book: containing songs sung and played by Zeke Manners and his gang on stage, radio and records. [New York]: [Zeke Manners], 1937. 32 p. 41 songs.
[Songs Introduction] [Contents] [Previous page]
---
[Homepage]
[Introduction]
[Cowboy Poetry]
[Postcards]
[Sex in the West]
---
"Whereof the shining goal was comradeship."
Contact owner: Alan V. Miller at millera@cowboysong.com
Last revised: May 30, 2001