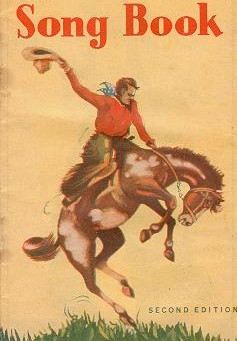 VOICES WEST: COWBOY POETRY SECTION
Poetry: X - Z

[Homepage] [Introduction] [Cowboy Songs] [Postcards] [Sex in the West]
---
<! -- TOP-OF PAGE LINKS --> [Poetry Introduction] [Contents] [Previous page] Titles: X - Z

* Indicates from the collection of Alan V. Miller

Yauger, Fay. Planter's charm / Fay Yauger. Dallas, TX: Kaleidograph Press, 1935.
"We're here to stay, and looking for a man."

Rapid City, SD: S.A. Longenecker & Co., [1909]. 8446
* Yucca land: a collection of the folklore of New Mexico. Edited by Annie Laurie Snorf and Hazel Vineyard. Illustrated by Frances A. Hunt, Peter Hurd, Elizabeth Moore and Henrietta Wyeth. Dallas, TX: American Guild Press, 1958. 224 p.
Zander, Carl; Klusmann, Wes H. Camp songs 'n' things / Carl Zander and Wes H. Klusmann. Inglewood, CA: Zander & Klusmann, 1938.
"Holding down a claim in the West."

Chinook, Mont. : Chas. E. Morris, [1911]. A 12. (Made in U.S.A.).
* Zarzyski, Paul. "Cowboy poetry." Russell's West (C.M. Russell Museum) 2(1): 8, 1994.
* Zimmerman, Peter Coats. Tennessess music: its people and places / Peter Coats Zimmerman. San Francisco: Miller Freeman Books, 1998. 295 p.
See chapters: "Old time" p.22-49 and "Country" p.109-131, as well as ten essays, especially "Appreciating Lefty [Frizzell]" by Gill Reavill, p.124-126.
[Poetry Introduction] [Contents] [Previous page]
---
[Homepage]
[Introduction]
[Cowboy Songs]
[Postcards]
[Sex in the West]
---
"Whereof the shining goal was comradeship."
Contact owner: Alan V. Miller at millera@cowboysong.com
Last revised: November 16, 2011