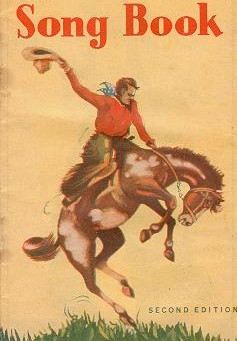 VOICES WEST: COWBOY LINKS
Links to other cowboy song and poetry sites
This page http://cowboysong.com/linksint.html
[Homepage] [Introduction] [Cowboy Poetry] [Cowboy Songs] [Postcards] [Sex in the West]
---
See links to Bluegrass, Country and Folk music
Arizona State Library, Archives and Public Records
This site includes The Capitol Museum, which presents exhibits and programs on government in the Arizona Territory and early Statehood days.
Location: 700 West Washington, Suite 200, Phoenix, Arizona 85007. Phone: (602) 542-4035
Includes the North Baker Research Library, which houses an extensive collection of manuscripts, maps, posters, printed ephemera, books, and pamphlets. A treasure is its Eadweard Muybridge and Ansel Adams photography collection. The CHS publishes California History
Location: 678 Mission St., San Francisco, California 94105. Phone: (415) 357-1848
Cochise Cowboy Poetry & Music Gathering
Cochise Cowboy Poetry & Music Gathering, POB 3201, Sierra Vista AZ 85636-3201 (520)459-3868
Fife Folklore Archives is one of the largest repositories of American folklore in the United States, housing over twenty five folklore collections and projects. The Archives is part of Utah State University's Special Collections and Archives, where the historical American Folklore Society Manuscript Collection is housed.
Location: Fife Folklore Archives, Merrill Library, Utah State University Libraries, Logan Utah 84322-3032. Phone: (435) 797-2869
Autry Museum of Western Heritage, 4700 Western Heritage Way Los Angeles, CA 90027-1462 (323)667-2000
The Heard Museum in Phoenix, Arizona, is a private, non-profit museum founded in 1929 by Dwight B. and Maie Bartlett Heard to house their personal collection of cultural and fine art.
Location: 2301 North Central Ave., Phoenix, Arizona 85004. Phone: (602) 252-8848
Idaho State Historical Society
The Idaho State Historical Society (ISHS) Library and Archives holds a large collection of material relating to the history of Idaho and the Pacific Northwest.
Location: 1109 Main St., Suite 250, Boise, Idaho 83702. Phone: (208) 334-2682
Kansas State Historical Society
Kansas State Historical Society's (KSHS) Center for Historical Research houses collections containing printed materials, Kansas government archives and manuscript materials, maps, and photographs.
6425 SW Sixth Avenue, Topeka, Kansas 66615. Phone: (785) 272-8681
Library of Congress. American Memory
Library of Congress, 101 Independence Ave., S.E. Washington, D.C. 20540 (202) 707-5000
See : Buckaroos in Paradise: Ranching Culture in Northern Nevada, 1945-1982
California Gold: Northern California Folk Music from the Thirties. Collected by Sidney Robertson Cowell
"California as I Saw It": First-Person Narratives of California's Early Years, 1849-1900
The Northern Great Plains, 1880-1920: Photographs from the Fred Hultstrand and F.A. Pazandak Photograph Collections
Music for the Nation: American Sheet Music, 1870-1885
The South Texas Border, 1900-1920: Photographs from the Robert Runyon Collection
Much on local New Mexico history, with emphasis on the history of the Pajarito Plateau, and special emphasis on the Manhatten Project and atomic research.
Mexico-related news, books and regional resources.
The museum contains information on collections of art, history and culture, in four museums and five monuments: Museum of Fine Arts, Palace of the Governors, Museum of Indian Art & Culture, Museum of International Folk Art and Museum of Spanish Colonial Art. The museums are located throughout Santa Fe.
Much on the history of Grand Junction. Location: 462 Ute Ave., Grand Junction, Colorado. Mailing Address: P. O. Box 20000, Grand Junction, Colorado 81502-5020. Phone: (970) 242-0971
National Cowboy & Western Heritage Museum
Location: National Cowboy and Western Heritage Museum 1700 N.E. 63rd St., Oklahoma City, Oklahoma 73111. Phone: (405) 478-2250
Includes a useful alphabetical index of New Mexico museums, parks, and monuments
ProRodeo Hall of Fame and Museum of the American Cowboy
The Musuem is devoted exclusively to the sport of rodeo and the men and women who have made it a world class sporting event.
Location: 101 Pro Rodeo Drive, Colorado Springs, Colorado. Phone: (719) 528-4764
Roy Rogers - Dale Evans Museum
The museum includes family photos , costumes, parade saddles, memorabilia from the silver screen and television, artifacts from Roy's life, fan mail, comic strips, Roy and Dale's Remington collection.
Location: 3950 Green Mountain Dr. Branson, Missouri 65616. Phone: (417) 339-1900
South Dakota State Historical Society
The mission of the museum is to preserve the material evidence of South Dakota's history.
Location: 900 Governors Dr., Pierre, South Dakota 57501-2217. Phone: 605-773-3458
State Historical Society of North Dakota
State Historical Society of North Dakota is the official state archives, it acquires and preserves all types of research materials relating to North Dakota and the Northern Great Plains, including manuscript collections, books, periodicals, maps, newspapers, audio and video materials, and photographs.
Location: 612 East Boulevard Ave., Bismarck, North Dakota 58505-0830. Phone: (701) 328-2666.
Much on the history of Tempe. Location: 809 E. Southern Avenue, Tempe, Arizona 85282. Phone: (480) 350-5100
The museum is changing its focus and stresses natural history.
Location: 2400 Trinity St, University of Texas, Austin, Texas. Phone: (512) 471-1604.
University of Wyoming. American Heritage Center
American Heritage Center (AHC) collects, preserves and catalogs manuscripts, photographs, maps, audio-visual materials, rare books, and artifacts related to Wyoming and the West, economic geology, the petroleum and mining industries, transportation, American culture, conservation, and water resources.
Location: PO Box 3924, Laramie, Wyoming 82071. Phone:
Utah State University Special Collections
Materials include manuscripts, photographs, rare books and serials, art works on paper, and the permanent, historical records of Utah State University.
Location: Special Collections & Archives, Merrill Library, Utah State University, Logan, Utah 84322-3000. Phone: (435) 797-2663
The Western Folklife Center is the headquarters of the Cowboy Poetry Gathering, Voices of the West radio, and the many other programs. Located in Elko, Nevada, the Center is dedicated to presenting and preserving the contemporary traditions of the American West.
Location: Western Folklife Center, 501 Railroad St., Elko, Nevada 89801. Phone: (775)738-7508
The Western Music Association preserves and advances the history, literature, and performance of American Western music.
A subject-organized website about the study of the American West created and maintained by Catherine Lavender, of the Department of History, College of Staten Island, The City University of New York.
William S. Hart Ranch and Museum
Lcoation: 24151 San Fernando Rd., Newhall, California. 91321. Phone: (661) 254- 4584
The musuem concerns itself with the human and natural history of Wyoming.
Location: Barrett Building, 2301 Central Ave., Cheyenne, Wyoming 82002. Phone: (307) 777-7022.
---
[Homepage]
[Introduction]
[Cowboy Poetry]
[Cowboy Songs]
[Postcards]
[Sex in the West]
"Whereof the shining goal was comradeship."
Contact Alan V. Miller at millera@cowboysong.com
Last revised: October 11, 2003